Before booking please check all Facebook pages for opening times and ski conditions
Ski-Stay Package
We have teamed up with North Highlands Nordic to offer you a special accommodations and ski stay package, allowing you to enjoy more skiing and relaxing without all the travel.The perfect place to stay.
Book 3 days with us at our cottages (3 days gets a 10% discount on the cottage rental) and a 2 days trail pass and equipment rentals from North Highlands Nordic and we will give you one extra days trail pass and equipment rental free.
We will need you to have each person skiing to complete the form below so we can have equipment ready for you at the ski club.
Check out our cottages here, we are located 6km from the ski club, situated on south harbour.
Cottage booking and ski trail pass and equipment payment
Remember we have many more skiing adventures for you close bye, South Ridge Wilderness trails and of course ski cape smokey, so why not book a few more days at the cottages and enjoy what the highlands has to offer you.
**Please check our booking calendar first to see what availability there is before booking**
We have 2 cottages to select from - each sleeps a max of 4 people
Adult Equipment Rental
If you have your own skis etc don't complete this
Kids (Grade 1-12) Equipment rental
If you have your own skis etc don't complete this
Cancellation/Refund Policy for ski/stay package
Should you need to cancel due to bad weather/road conditions or the ski club can't open due to inclement weather. We will offer a rain/snow check, select another convenient date and let us know, if that doesn't work, we will offer a full refund.
Or if it is just the ski club that can't open for some reason and you want to come up and stay at the cottage and use other ski resources then we will offer first, a rain check on the trail passes and equipment rentals at the ski club for a future date, if that can't work then we would refund the trail passes and equipment rental payments.
The weather can sometimes be unpredictable, so we want to make your visit as flexible and enjoyable as possible.
Please check the ski resorts Facebook pages for changes in opperating hours:
Little Brook cottages are 7 minutes (6.4km) from North Highlands Nordic ski centre, 15 minutes (11km) from South Ridge Wilderness trails and 40 minutes (27km) from Ski Cape Smokey.
Your perfect base camp to enjoy the winter wonderland we call home
North Highlands Nordic Ski Club
7 minutes (6.4km) to North Highlands Nordic ski centre
North Highlands Nordic in Cape North has the finest cross country ski trails in the province. There are 11 km of groomed and track set trails.
Web site: North Highlands Nordic
Contact Us
Email

Phone


(902) 383-2479

Address


29481 Cabot Trail, Cape North, Nova Scotia
The North Highlands Nordic Ski Club (NHN) was founded in 1977 by a small group of enthusiastic cross country skiers, who shared a love of winter and of the splendid scenery in the Northeast Highlands Area of Cape Breton Island, Nova Scotia. From humble beginnings of skiing on un-groomed trails, the club has developed a very high-class facility and trail system in the village of Cape North.
NHN and operates out of a heated waxing/warmup/ski rental room in the Cape North Community Centre. A trail network consists of 12 kms of mechanically-groomed and tilled track by a Pisten Bully grooming tractor, and offers panoramic views of some of Atlantic Canada's best scenery.
The club is proud to have hosted any number of major national and regional ski races including the 1987 Canada Winter Games, 1989 Canadian Junior Nationals, and the 1986, 1987, 1994 and 1998 Atlantic Championships and numerous Loppets and Provincial Championships.
New Building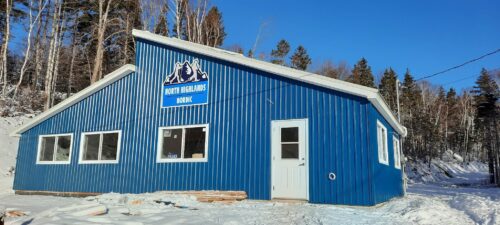 Groomed Trails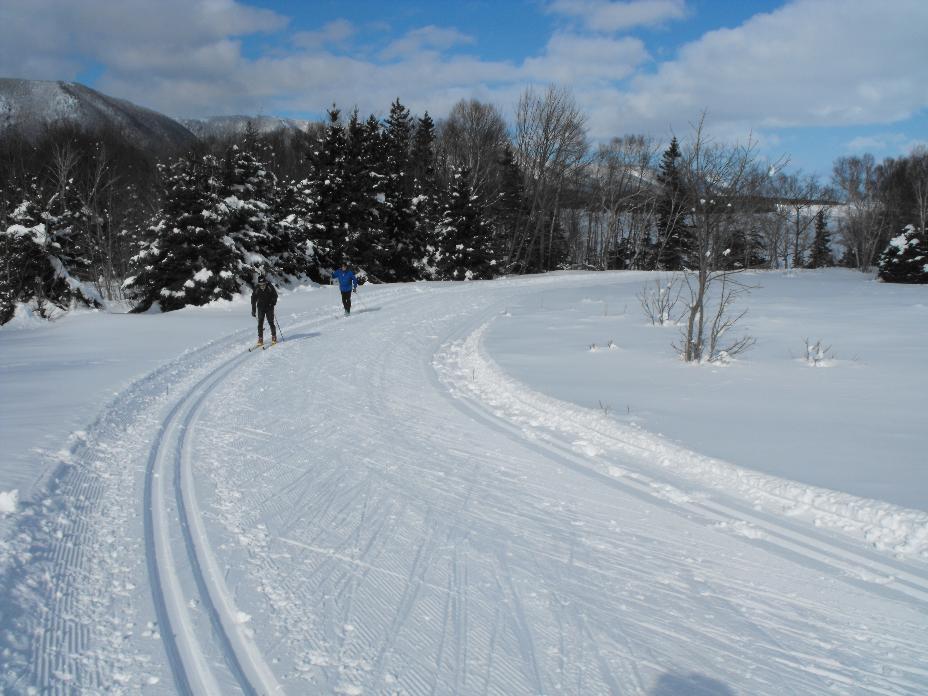 Snow-shoeing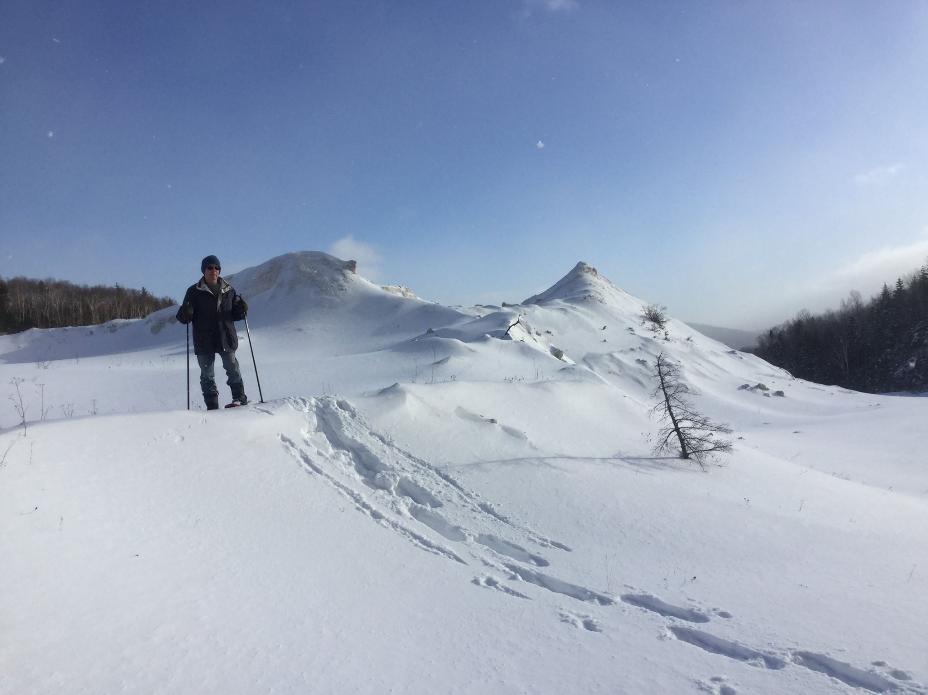 South Ridge Wilderness Trails
15 minutes (11km) to South Ridge Wilderness trails from Little Brook Cottages

South Ridge Wilderness Trails
901 South Ridge Road
Cape North NS
Email: srwtrail@gmail.com
Call/Text 1-902-371-1112
South Ridge Wilderness Trails
South Ridge Wilderness Trails is located about 11km (15mins) from the Little Brook Cottages at the very end of South Ridge road. As you drive in to SRWT you get a sense that you are entering a true remote wilderness area. The trails feature mountains, rivers, waterfalls, old growth forests and an abundance of wildlife. South Ridge Wilderness Trails features 10 km of double track, groomed on weekends or by request, cross country ski trials suitable for classic technique and snowshoeing; snowshoe specific trails that venture into the back country; and the most incredible alpine touring/telemark skiing, split boarding you will find anywhere in the highlands. It is located in a snow belt that typically dumps gargantuan amounts of snow, and the many ridges extending out from the mountain offer everything from low angle mellow runs for beginners to steep and deep powder runs for adrenaline seekers. Tommy, the owner/operator at South Ridge Wilderness Trails, offers a back country guide service on the weekends at a very affordable price. If you want to max out your experience, whether that is exploring the back country on snowshoes or cross country skis, or taking a direct line to the best downhill runs on the mountain, I recommend taking advantage of this service. Tommy also offers half and full day courses in winter trekking, overnight camping, navigation, etc. Special events will be run throughout the winter. A warming hut with wood stove and indoor washroom is available on site. Trail pass fees are $10 adult, $5 student, $20 family. Sign our guest book and pay trail fees in the warming hut. There is a donation box if you are feeling inclined, or e-transfer to srwtrails@gmail.com. South Ridge Wilderness Trails currently does not offer ski or snowshoe rentals. Check us out on Facebook.
Are the cross country trails suitable for skate skiing?
No. What I typically tell people is that if they are looking for skate skiing or perfectly groomed trails, they should go to North Highlands Nordic. South Ridge Wilderness Trails uses homemade, primitive grooming equipment. We're more about the back country experience, the scenery and wildlife. A lot of people who come here don't even ski the main trails, they opt to ski in the back country. For a comparison, the xc trails would be quite similar to Ski Tuonela, but wider.
How far do you have to skin to get to the downhill runs?
The first run is just 5 minutes from the parking lot, but if you want to get to the really good runs you're looking at 30 minutes to Telemark Hill, 40 to Birthday Ridge and Southeast Ridge, and 45 to The Perch and Sunset Hill. Of course, it's shorter with me as a guide because I can take direct lines.
How do the downhill runs at SRWT compare to North Mountain?
SRWT is better. North mountain does not have a lot of variety, You go there to ski the steeps. SRWT has plenty of steep runs, but it also has low angle runs, often right next to the steeps. So it caters to more abilities. But the big difference is that the trees are quite tight and there's brush to contend with at North mountain. SRWT is more gladed out, wider tree spacing and brush is not an issue. The elevation at North would be a bit higher, but that's relative. And it's much harder skinning at North mountain. I do ski at North mountain from time to time, but it's more about exploring new terrain than getting good runs in. The hills in past Ban Falls actually has better skiing than off the highway on North, but the issue is it takes a couple of hours of skinning to get there. There's also similar runs over in Aspy Bay, but there tends to be a lot of brush on those hills.
How does SRWT compare to Ski Tuonela?
I love Ski Tuonela...nice cabins, trails, and a fun little telemark hill. I have plans to build cabins here, but that's in next year's schedule. As far as the skiing goes, my xc trails are very similar to Tuonela, but there is no comparison when it comes to the telemark/alpine skiing. Tuonela has a low angle, relatively short hill compared to what we have here. Their run can be super fun, especially on spring corn snow, but it's comparable to our shortest run here.
Will I get lost in the back country?
There is minimal signage here, because I like to keep the area looking untouched. So it is possible to get turned about, but not really lost... not if you know the following: the ridge is enclosed by two rivers: South Aspy to the south and Middle Aspy to the north. If you don't know where you are, descend down either side of the ridge until you come to a river. Follow the river downstream until you see a ski trail. All trails loop back to the parking lot.
No, but I have a lot of gear laying around so I may be able to hook you up if you ask ahead of time.
Do I have to worry about coyotes or bears?
No. This place is wild and coyotes and bears are scared of people so they go out of their way to avoid you.
155 acres. But, we're bordered by the Park, which means hundreds of acres to explore during the winter.
Do I need a guide to go into the back country?
No, but there are advantages. And it also depends on what you're after. Are you just looking to explore, to see what's over the next hill? In that case, you can wander around the ridge and have a wonderful time on your own. But if you have a specific destination in mind, say you want to go to the falls, then it's much easier with a guide. If you're interested in a back country xc ski, I also recommend a guide unless you have a topo map and compass and know how to use it. Actually, we have cell coverage here too, so google will also help you out. There's a common bc trail that often has tracks on it, so you wouldn't need a guide for that. But, for really long bc skiing, take go with a guide. Once you get up over the mountain you're deep in the highlands. Weather can change fast, possible whiteout conditions, etc. Best to be with an experienced trekker. I also know the area pretty much all the way to Cheticamp Lake, so if you have a specific destination, or if you just want to explore a long way, I can take you. Now here's what I tell people looking for the downhill runs. I can tell you how to get there, but you may or may not find it. You'll certainly find a spot, and you'll probably have an awesome time, but you likely didn't find the best spot. The guide can take you directly to the best spot. And the best spot changes daily, sometimes within the day. And not only will a guide take you to the best spot, you'll get there much faster. So ultimately, you'll be skiing more and skinning less. My guide fee is $50. And, if it's just 1 to 3 people, I throw in the option to take the snowmobiles as far as the park line, which means even less skinning. Taking the snowmobiles would cost an extra $20 per machine.
Tell me about the winter trekking course you offer.
The course teaches you all you need to know about traveling and camping in winter. I taught this course for St.F.X for years; I offer the 1 day (overnight option included) condensed version. I will set you up with the gear - toboggans, snowshoes, hot tent, wood stove, etc - and teach you all the essentials. I also offer courses in igloo and quinzie building... authentic, I was taught by inuit elders. I spent 3 years in Nunavut learning and practicing traditional inuit skills. I also teach a Navigation course. XC instruction. etc. The cost for the courses is $25 with a minimum of 4 participants.
Yes we are.
Do you have special events?
We will this year (2022/23).
Group snowshoe.
Group ski form Mica Hill to South Ridge. Etc.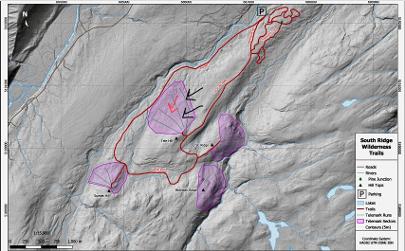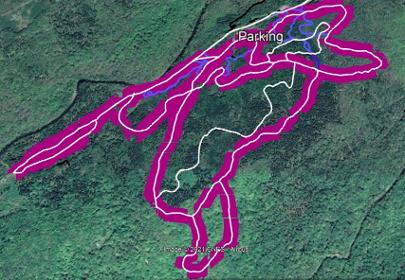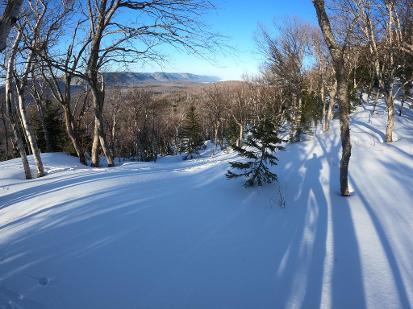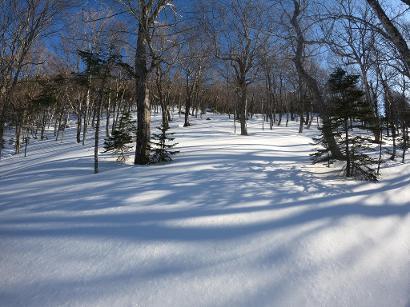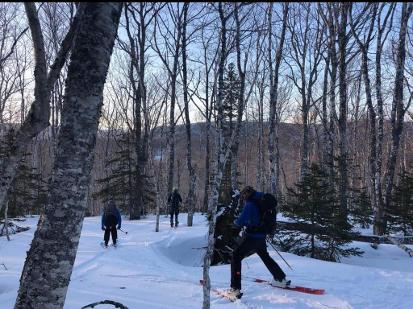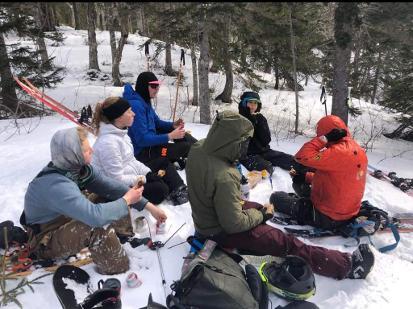 Ski Cape Smokey
40 minutes (27km) to Ski Cape Smokey
Little Brook Cottages are located 45 minutes from the ski hill.
This is Atlantic Canada's first and only gondola, providing renewed access to the entire ski hill in winter. The gondola will run year-round, to provide a new experience and views to visitors and tourists of the Cabot Trail.

Leitner-Poma has notable gondolas and chairlifts across the world, including Whistler, British Columbia and Banff Park, Alberta.
Open..Open
We've got the accommodation covered, Ski Cape Smokey have the snow making covered, book your skiing vacation now.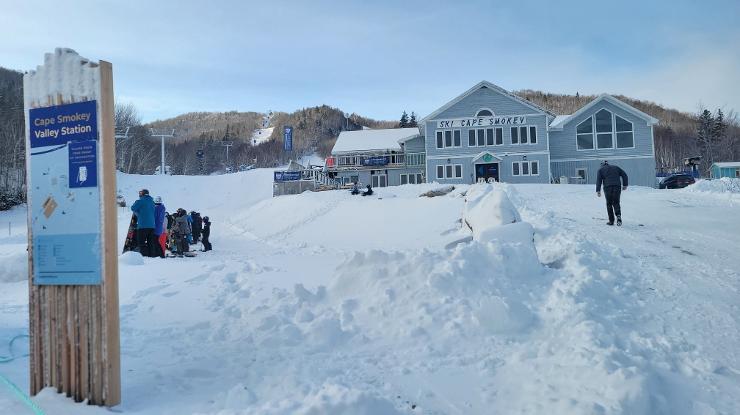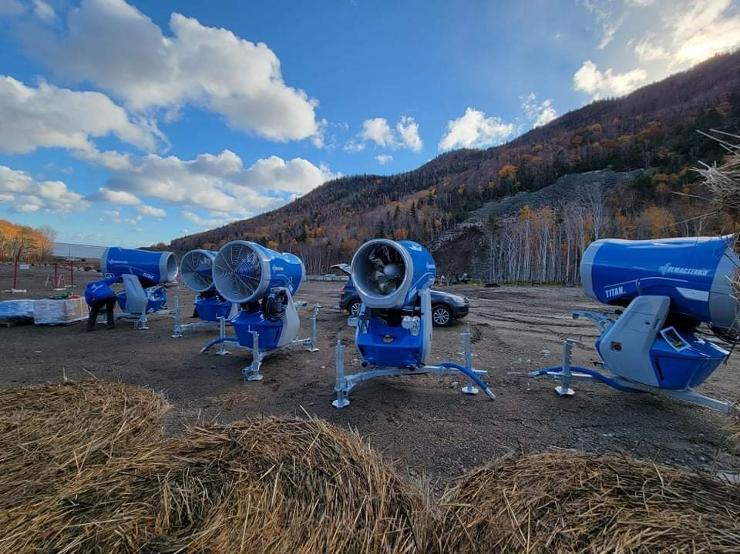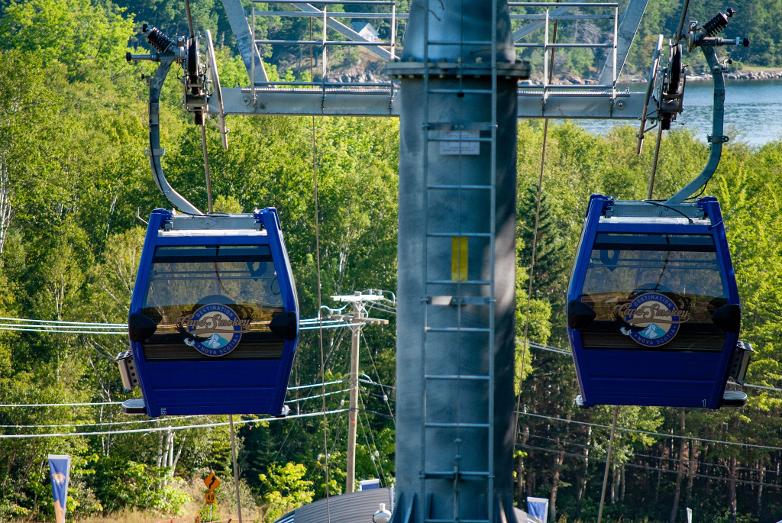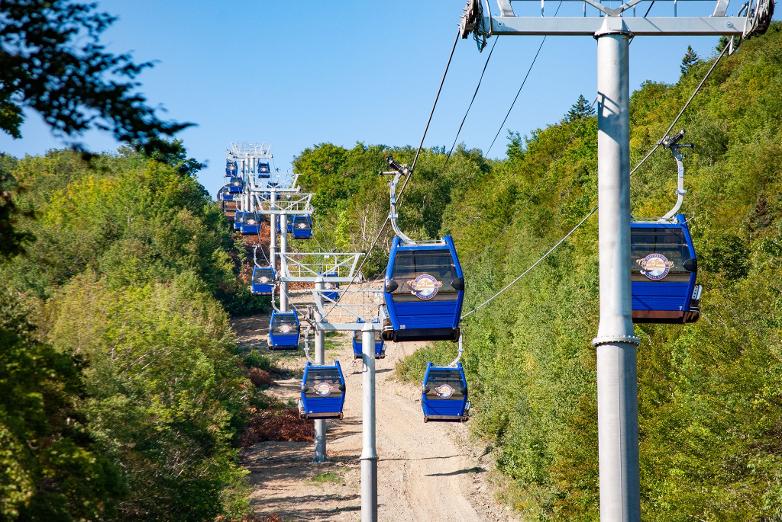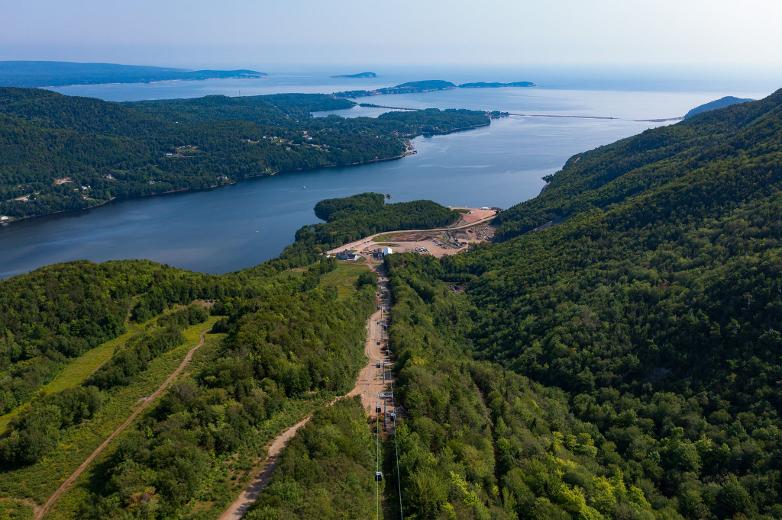 Open: Friday-Saturday-Sunday & Monday's
Hours: 10.00am - 6.30pm

Please check the Ski Cape Smokey Facebook page for any additional days or special events.HERE
Cape Smokey
2023 Season start date to be announced later

45 Minutes from Little Brook Cottages, Book your accommodation now, after a day of skiing relax.

Address:
38696 Cabot Trail
Ingonish Beach, Nova Scotia
Phone:
Call (902) 285-2760
Email: info@capesmokeyholding.com
Weekly Skiing
Once the snow is down and we are able to open, we welcome you to join us any or every Friday Saturday Sunday and Monday's for open family skiing from 8:45am till 4:00pm. Watch for our special Event and Race weekends on our Calendar of Events as the hill will be busier with more on-site activities and entertainment on those weekends.
Ski Cape Smokey has been premier ski resort destination in Atlantic Canada for many years that delighted visitors with exceptional skiing from mountain to ocean in one of Canada's most scenic and popular destination areas. For the last 10 or more years, Ski Cape Smokey operated under the passion and perseverance of local community volunteers.
In 2019, new owners finalized the details of purchasing the property and have great vision and plans for Cape Smokey. Cape Smokey Holdings have committed to limited operation of the Ski Hill and lodge facilities for the 2019 / 2020 season as a transition year and as an opportunity for all who have fond memories to come see the old lodge and hill one last season before re-development begins.
Ski Cape Smokey will open limited days and with only the poma lift in operation as the chair lift is not operational and will be replaced with a Gondola in the future.
There will be event and race weekends as well as a Craft Beer festival and many other events to come enjoy so check back regularly for more information.
We welcome you to come visit us this season to share in some past nostalgia of Ski Cape Smokey as well as catch a glimpse of the vision of the new Ski Cape Smokey!
See you on Top of old Smokey this season!
Mountain Statistics
Peak Elevation

320 m

Vertical

305 m

Runs

11

Skiable Terrain

59 acres

Base Elevation

15 m

Average Snowfall

381 cm

Longest Run

2.4km
Lifts
Poma Lift

Vertical: 200 m / 656 ft

Sneak Peak Express

Snowmobile shuttle to top of the Mountain

Gondola – To be Built in 2021

Vertical: 320 m / 1049 ft

Chair Lift

Not in Operation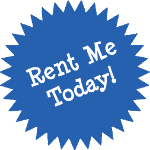 © Copyright www.littlebrookcottage.ca